Odd Saturdays @ 9am
John Trubee chooses his personal favorites from his extensive music collection and features everything from rock, pop, classical, and jazz to experimental and spoken word…and beyond.
He focuses primarily on music from the last 40 and 50 years but emphasizes that anything is game, drawing his audience's attention to worthy works of which they would otherwise be unaware.
There is so much great music out there hidden on shelves and in archives waiting to be heard! John will deliver it to your ears every odd Sunday morning at 10.
Check out his web site www.johntrubee.com.
---
Meet The Host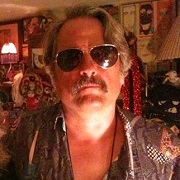 Host Name: John Trubee
Host Contact: johntrb09@gmail.com

Host Info: Born in Rapid City, South Dakota. Grew up in Princeton, New Jersey, John graduated from Berklee College of Music in Boston, Massachusetts. He lived in North Hollywood, California from 1980 to 1992, releasing records under his own name as a recording artist, composer, and producer on the Enigma, Restless, Ear Movie, Cordelia, and Empty Records labels. John's written for SPIN, Music Connection, and BAM magazines. He's lived in Santa Rosa, California since 1992. He owns and releases LP records and CDs on his label TRUBEE RECORDS.