Odd Wednesdays @6pm
There is a huge social phenomenon taking place under our noses, called the Hallyu Wave. It's been happening since 2012 on our radar – however, K Pop has been around since the early 90s. Fans and Social media have played a huge part in helping to build this movement. Also, the South Korean music industry an entirely different beast than what we are familiar with. My passion for the experience is overflowing – and it's time to share the most fun I've had since I was a kid. Find more information and playlists on my Facebook page: My KPOP Mixtape. BORAHAE!
---
Meet The Host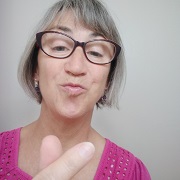 Host Name: DJ Debbie
Host Contact: kpoplovedvd@gmail.com

Host Info: Debbie is a seasoned music lover and she has been making mixed tapes since the early 1970's for all her friends. Her other specialty is alternative/new wave British 1980s music. Debbie is a professional fiber and mixed media collage artist, and lives in Sonoma County, CA, USA.