Odd Sundays @Noon
The McBass on Bass radio show highlights the best of bass in recorded music, profiles the famous and not-so-famous bass musicians, past and present, who hold down the bottom in all genres of music.
Every kind of music has a bass line. We illuminate how fundamentally important bass is to the music we all enjoy. It's the bass that moves us and drives our emotions. There are many bass lines etched into our collective consciousness. Join host Michael McBass as he navigates the twists and turns of the low road. Discover what kind of instruments produce these magical tones. What's their history, where did they come from, how are they played, where are they made? More often than not it's the bass that drives the music, but usually the musicians playing lower register instruments rarely get recognition. Most of the time they don't even take a solo. McBass on Bass gives details and insights about famous bass players, uncovers the many obscurely unknown bassists, as well as profiling local musicians, too, all of whom play at the bottom of the musical staff. What draws them to go low? What are the influences and who are the influencers? It's a long way up to the bottom.
---
Meet The Host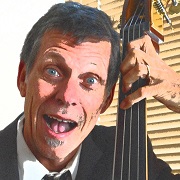 Host Name: Michael McBass
Host Contact: info@mcbassonbass.com

Host Info: True to his surname, your host Michael McBass, a California native, has been playing bass for 50+ years… but started his string instrument adventures as a child playing violin, in rebellion to the family name. It was only through the interventions of neighbors begging his Mom by arguing that hearing him practice bass would be far less annoying than listening to him practice violin, that then the bass became his primary form of musical expression. Somehow the bass stuck and took hold of his soul. He was a natural; something genetic perhaps. McBass has played and continues to play bass in almost every form of music, enjoying collaborations with many musicians, in all settings from studio to stage.