Fridays @11am

The Midnight Special, the enduring and beloved folk music radio program, syndicated through the WFMT Radio Network.  The Midnight Special first aired in Chicago on WFMT-FM in 1953, and went national in 1971.  Rich in tradition and history, the program has remained current through decades of change by retaining its topical bent while delighting listeners worldwide with gentle irreverence, touchingly candid observations, and the unveiling of new music.
The Midnight Special's host Marilyn Rea Beyer came aboard in September 2020. A seasoned broadcaster, educator, writer, poet and storyteller, Marilyn was on-air midday host and music director for Boston's WUMB from 1995-2015. She has also taught speech communication and writing for the media, among her many pursuits. "I have loved The Midnight Special since my teens," she says, and relishes "the active listener engagement, the quirks and surprises, and the pursuit of fresh material that has made the show a radio legend."
In 1953, the late Mike Nichols, (then a WFMT announcer who went on to become one of the most respected stage and film directors), developed The Midnight Special as a showcase for recorded folk music.  Over the years, The Midnight Special has evolved into an eclectic mixture of song and story that attracts not only a loyal following, but also new, younger listeners with each broadcast.  They hear an incredibly diverse selection of artists, from the traditional to the contemporary:  Pete Seeger and The Weavers, the New Lost City Ramblers, Joan Baez, Tom Paxton, Arlo Guthrie, Mike Cross, Ani DiFranco, Greg Brown, Alison Krauss and Anais Mitchell, to name a few, along with comedy from the likes of Bob Newhart and Mitchell & Webb. Material comes from an unrivaled library of over 13,000 CDs, 5,000 LPs and 55 years of live concert and studio recordings that began with Pete Seeger and Big Bill Broonzy in a concert that became a Folkways album. The Midnight Special often airs live performances recorded by WFMT over the past 60 years that are not available commercially, including well-known artists appearing at Chicago-area clubs, the University of Chicago Folk Festivals, and more.
http://www.midnightspecial.org/
---
Meet The Host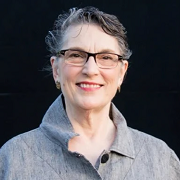 Host Name: Marilyn Rea Beyer
Host Contact: Not available

Host Info: http://www.midnightspecial.org/rwarrenms.htm