Saturdays at 4pm
The Mystical Positivist broadcasts live on KOWS-LP, a community radio station in Occidental, CA, at 107.3 MHz FM, and also live on the web at www.kows.fm. We record and make available podcasts of previous shows at http://mysticalpositivist.blogspot.com, where you can read an associated blog and look at who we've interviewed in the past.
The thesis of the show is that rationality is not the antithesis, but the ally of mystical experience and deep spiritual practice. The focus of the show is consciousness, and spiritual practice in all its aspects: its goals, methods, obstacles, directions, tips for seekers, etc.
Hosts Stuart Goodnick and Rob Schmidt run Tayu Meditation Center in Sebastopol, California (http://www.tayu.org/tayu/), and founded and run Many Rivers Books and Tea there, a spiritual bookstore and teashop (http://www.manyriversbooks.com).  They have been practicing the Tayu path for decades. Their teacher, Tayu founder Robert Daniel Ennis, strongly advocated contact and conversation among and between practitioners of all traditions and perspectives, as well as philosophers of consciousness with varying backgrounds.  The Mystical Positivist project, like the Many Rivers spiritual bookstore project, is rooted in Mr. Ennis' vision of exploration of both similarities and differences among spiritual traditions and perspectives.
The Mystical Positivist broadcasts live on Saturdays from 4 to 6 pm PST.  Most of each show is devoted to an interview with our guest(s) that takes the form of a conversation between the guest(s) and show hosts.  At an hour and 40 minutes, these radio interviews are spacious enough to permit exploration in depth of topics relating to spiritual practice.  Hosts Goodnick and Schmidt bring their own decades-long commitment to, and passion for, effective spiritual practice to our conversations with teachers, authors, philosophers and practitioners from all traditions and perspectives.
Past shows have featured a broad range of fascinating authors and profound spiritual practitioners from a variety of traditions including Mirabai Starr, highly regarded translator of mystical texts, and author in her own right of God of Love; journalist Steve Volk, author of Fringe-ology; Dean Radin, Senior Scientist at the Institute of Noetic Sciences and author of Entangled Minds and The Conscious Universe; Regina Sara Ryan, author of The Woman Awake,Praying Dangerously, and many other titles; Ken Cohen, author of The Way of Qigong and Honoring the Medicine; Cynthia Bourgeault, author of The Wisdom Jesus, The Meaning of Mary Magdalene and many other books; B. Alan Wallace, former Tibetan monk, translator and author of a long list of titles including Mind in the Balance: Meditation in Science, Buddhism and Christianity; Mark Nepo, author of The Book of Awakening and Seven Thousand Ways to Listen; and psychotherapist and Buddhist practitioner John Welwood, author of Love and Awakening, Toward a Psychology of Awakening, and Perfect Love, Imperfect Relationships: Healing the Wound of the Heart; poet, Zen priest, and author of Training in Compassion and other books Zoketsu Norman Fischer; psychotherapist and author David Richo; author of The Leadership Dojo Richard Strozzi-Heckler; Roshi Jisho Warner of Stone Creek Zen Center, and co-editor of Opening the Hand of Thought by Kosho Uchiyama.
---
Meet The Host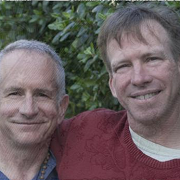 Host Name: Rob Schmidt and Stuart Goodnick
Host Contact: Not available

Host Info: Not available